Our Favorite Acclimatization Programs for Hiking Cotopaxi
Ecuador is generously composed of volcanic terrain in a concentrated space, making it a climber's dream. Frequently remodeled by fire and ice, this small but dramatic country is sure to give you an adventure of a lifetime.
At Hostería PapaGayo, we are located in the middle of an expanse of volcanoes. Because of our perfect location, our 150-year-old charming hacienda is the destination for many climbers looking for a relaxing base in between climbs. Set at around 10,500 ft (3,200 m), PapaGayo is an excellent place to stay while acclimatizing for hiking Cotopaxi. Our guests are diverse with some wanting to come for yoga and relaxation, others wanting to tackle some of Ecuador's most formidable volcanoes, and some wanting a little bit of both. Start planning your mountain climbing trip among the Ecuadorian Andes. We'll help you begin by highlighting our favorite volcanoes in Ecuador, all easily accessible from PapaGayo.
Hiking Cotopaxi – Experience climbing an active volcano
Of course, we are going to begin with the mighty majestic Cotopaxi. With increasingly growing fame, people are traveling to Ecuador daily in hopes of hiking Cotopaxi. Cotopaxi is the second highest mountain in Ecuador and the tallest active volcano. Standing at 19,347 ft (5,897 m), conquering Cotopaxi is certainly a challenge but one that can be done by beginners and experienced climbers alike. It is not highly technical, but it does require proper equipment and a certified guide as dictated by Ecuadorian law.
Climbing to the summit is an overnight experience. Climbers hike to the Jose Rivas refuge on the first day and are instructed on how to use equipment such as harnesses, ice picks, and crampons. After a hearty dinner, climbers try to sleep for a couple of hours before departing at midnight. It takes around 6 hours to arrive to the peak. Those who can claim a successful summit have the opportunity to watch the rising sun from above the clouds, what many describe as an unforgettable experience. Cotopaxi overlooks Cayambe, Antisana, Chimborazo, and Tungurahua, and on a clear day, you'll have the heavenly view of these majestic mountains.
If the arduous climb to the summit isn't for you, a visit to Cotopaxi is still a must. Many people visit the mountain in a day trip, hiking to the refuge and back. The Jose Rivas refuge sits at 15,750 ft (4,800 m). From the parking lot, it takes around one hour to reach the refuge. Guests can enjoy warm empanadas and even warmer hot chocolate, a refreshing snack before descending. The descent can be enjoyed either on foot or by mountain bike, depending on which you prefer.
Acclimatization Hikes
Ascending Cotopaxi exposes you to altitudes that most people aren't accustomed to. Even the toughest climbers can fall victim to the effects of the high altitude. It is highly advisable to acclimatize with several mountain climbs prior to Cotopaxi.
Hiking Pasochoa – 13,780 feet / 4,200 meters
Pasochoa is usually people's first acclimatization climb upon arriving in Ecuador as it is among the easiest. Pasochoa is inactive, and this collapsed volcano contains a beautiful well-preserved cloud forest inside the crater. This humid Andean forest reserve is a refuge for a wide array of wildlife, containing flora and fauna unique to Pasochoa. Also on the hike, you might be fortunate to see pumas, wild horses, foxes, and even the Andean condor. Standing at 13,780 ft (4,200 m), Pasochoa has an incredible view of Cotopaxi if you catch it on a clear day.
Hiking Rumiñahui – 15,489 feet / 4,721 meters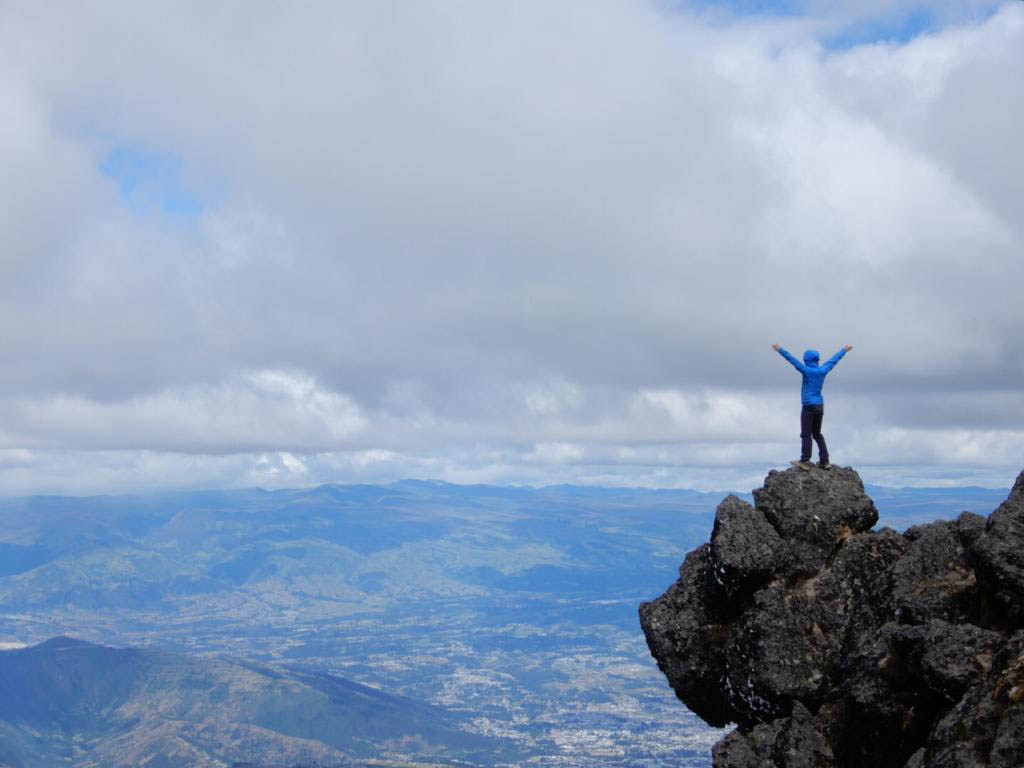 Rumiñahui, a peak consisting of three summits, has an altitude of 15,489 ft (4,721 m). The ascent takes you through rolling hills of tall paramo grass vegetation, and perhaps you might spot some wildlife lurking in these tall grasses such as rabbits, foxes, and deer. Maybe you'll observe the elusive Andean condor with its 10-foot wingspan flying overhead. This climb culminates with a short but exciting scramble ending. Like all mountains, the view depends on the dispersal of the low-hanging clouds, and given good weather, you'll want to stop and savor the view of volcanoes Ilinizas, Corazon, Sincholagua, and Cotopaxi.
Hiking Corazon – 15,715 feet / 4,790 meters
Corazon is another common acclimatization climb. Climbing a bit higher, Corazon's altitude ranks at 15,715 ft (4,790 m). Its name means "heart" in Spanish given its heart-like shape. Most of the hike guides you through wild paramo grasslands and finishes with a bit of rock climbing at the end. With clear weather, you have views of Ilinizas and Cotopaxi as well as the surrounding Andean terrain from the top of Corazon.
Hiking Ilinizas – 16,818 ft / 5,126 m (North Iliniza)
Twin peaks, North Iliniza and South Iliniza, are a pair of volcanoes separated around 1 km apart. It originally began as a single-peak volcano, but its last eruption caused it to separate into two. South Iliniza is a technical climb due to its glaciated peak. North Iliniza is challenging although not technical, and this mountain is the perfect last stop before hiking Cotopaxi. Reaching 16,818 ft (5,126 m), North Iliniza offers a beautiful hike among sandy volcanic topography and a paramo ecosystem. After a fun scramble towards the end of the climb, climbers can enjoy stunning views from the summit of neighboring South Iliniza and of Cotopaxi. South Iliniza is also a great acclimatization climb and is more often tackled by experienced climbers.
Click here to check out all-inclusive climbing programs, all beginning with acclimatization climbs and culminating in hiking Cotopaxi.
There are plenty more mountains in Ecuador to choose from, and these are just a few highlights. Stay in Hostería PapaGayo and discover these Andean gems. Contact us today to inquire about our mountain climbing programs or customize your own mountain climbing trip!